I have a feeling that this will land as a sales lead but I need someone to hand this to the general manager for this dealership or to the service manager. Thank you in advance. So often management is only made aware when there's a negative experience and consumers want to voice their negative comments/complains. But this email is to highlight the exceptional customer service that I received this past Friday, 1/22/2016 at your dealership. My children attends WVU and so I traveled to Morgantown because my daughter's Nissan Murano had major issues with her tires. I had her dropped it off after speaking to Tonya in service. Tonya patiently answered my questions and numerous phone calls (since the roads delayed my time of arrival in Mtown). She was knowledgeable, courteous and amazingly patient. But the story doesn't stop there, the real reason why I'm taking time to highlight Tonya as an exemplary employee and representative for John Howard's Nissan dealership is what she did for me with my other daughter's vehicle, a Mazda 3. Shortly after picking up the Murano on Friday morning, I took the Mazda to get tires, the vendor at the store broke off 3 wheel studs and therefore it wasn't driveable. Being away from home, I tried calling the closest Mazda dealership and explain the situation. I was told that they would need to order the parts and given the impending snowstorm, it won't be until Tuesday/Wed that they could get this fixed. I took a leap of faith and called Tonya. Not only was she willing to hear my predicament, she went above and beyond to get me answers and solutions. Even if she couldn't fix it, I felt at that moment she was trying so hard. At the end not only was the vehicle towed to your dealership, Tonya had it fixed and will finish up the job later in the week. I am so grateful for her diligence and my daughters have been instructed by me to schedule any services needed for their cars with Tonya for as long as they are in Morgantown. Thank you Tonya for the superb customer service you provided to us. Lastly can I please get an email confirming that this made it to the management team.

All the best,
Cathy Ho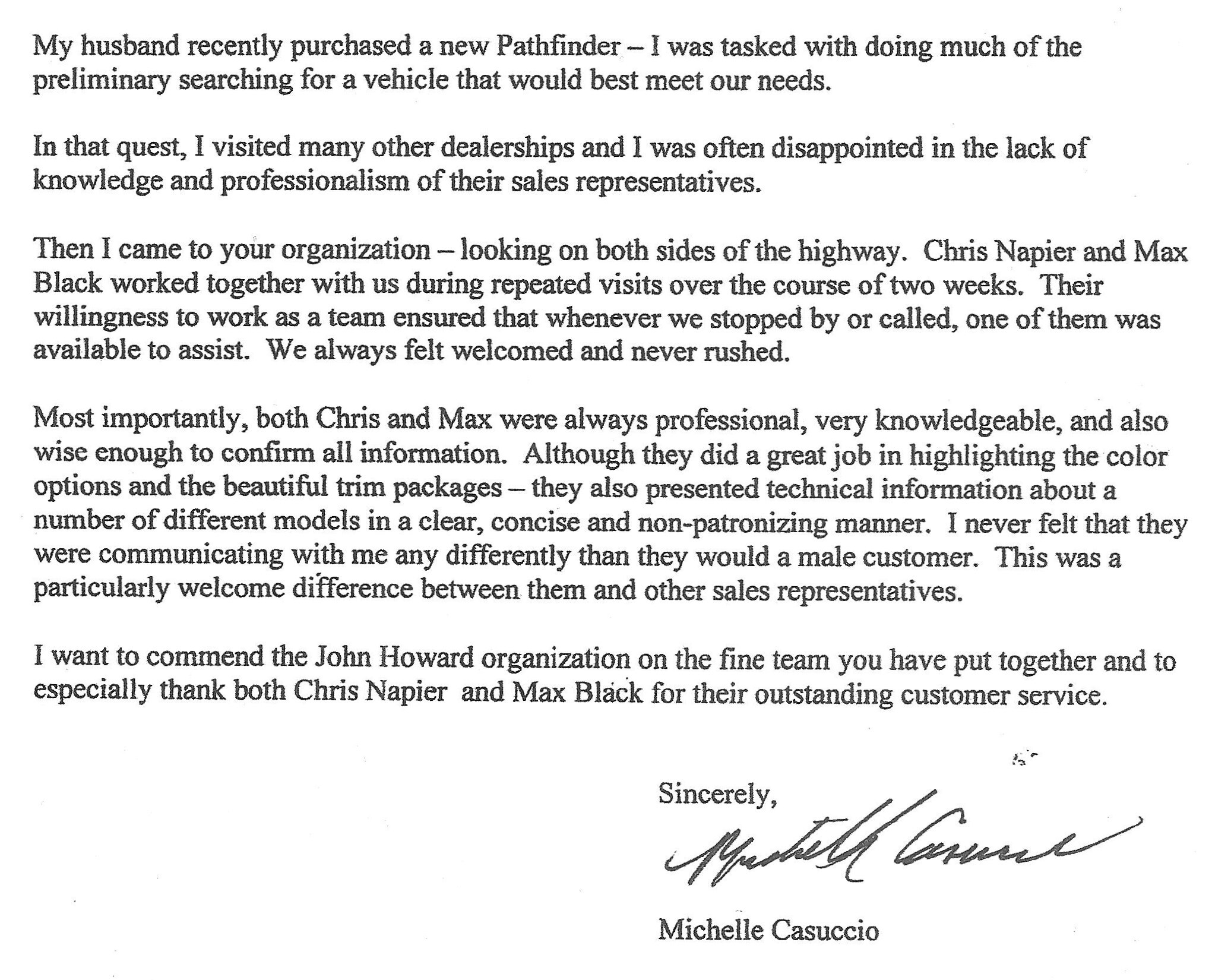 We were very happy with our shopping experience. Jason was not only helpful and patient as we made our decision but he also was very personable. I felt like we were dealing with a friend instead of a salesman. He is an asset to your sales team and I would encourage my friends and family to speak with him if they were looking to purchase a vehicle.
I just love my new vehicle and everything about it. When I drove home that evening Bill was waiting outside on the deck waiting for me.  When I got out of the car, he was grinning from ear to ear and all he could say was, "That is one bad a.. car."  HA!!!!
Thank you so much for all your help.  I have told everyone at work how painless you made buying a new vehicle.  I would recommend you to any one when it comes to purchasing a car at John Howard.
Thanks,
C. Reed.
I want to thank all of you for helping me with my key issue.  Ralph in parts was very sweet and helpful. As an 82 year old woman, I was concerned that I wouldn't receive the assistance I'd need, but I was wrong and I was treated very well.
Please tell Mr. Buzzo that I'm very pleased with the service and so very glad that I listened to my son (he bought a Subaru from you all) about going to see you all about this problem.
Sincerely,
S. Nebel.
Thank you for making this possible Jason.. you, Julie and Chris and three of the most awesome people ever. Today all of you made my goal/dream come true. I will never be able to express enough gratitude and thanks for what you all have done for me.. Thank you so very much!!
T. Wiles.
Dear Jason,
You are very personable and down to earth.  We enjoyed our car buying experience with you. Rom loved the drive home with several stops. So, we are happy campers.
Thank you for your kindness.
E. Rowan.
I had an excellent experience dealing with you all at the dealership. Will see you whenever the mileage ( or time come along) for oil change. Nice to have met you all !!!
Doctor R.Ramirez.
We purchased a 2010 Kia Forte from Tim Long for my stepson.  Tim was very helpful.  We had a very positive experience with Tim and your dealership as a whole.  Although we live in Winchester, Virginia I will consider driving to Morgantown again when it's time to purchase another vehicle.
R. Guntharp.
Thanks, Bud. I wanted to thank YOU for being straightforward with me, working with me on different options, and, most of all, very polite and respectful. I appreciate you giving me the facts and not a lot of sales gibberish (lol). Since my time was very limited, you did an excellent job of getting this purchase taken care of in a very timely manner. I really appreciate it!
Thank you again for all of your help and I look forward to perhaps working with you again in 3-4 years.
T Burbridge.